"I feel as if I'm waiting for something dreadful to happen, and then I realize it already has."
I haven't posted any reviews in a while because I've been busy with practicum, grad school applications, and trying to rewrite a novel on a tight deadline. I have, however, found time to read some amazing books that have kept me sane over the past few weeks.
I've always been intrigued by Kate Atkinson's books; her novels always have a unique premise that promises to be interesting and covers that are absolutely gorgeous. I was tempted to buy her latest novel, Transcription, but in an effort to spend less money on books and to discover if I liked her writing before investing more, I decided to read Life After Life which I had picked up for 2$ a few years ago.
The premise of the novel is simple: Ursula Todd can't stay alive. She is born on a cold night in 1910 with the umbilical cord wrapped around her neck and she dies before she can take a breath. Darkness descends. Then it begins again, but this time, the maid manages to snag a pair of scissors from the sewing basket and cut the cord before Ursula dies. This time, she lives. Over the course of her life and two world wars, Ursula dies in different ways and each time begins again with a slight premonition that she's seen all of this before. In one life, a servant infects the whole family with Spanish Flu, killing both Ursula and her younger brother. The next time around, Ursula isn't sure why, but she suddenly feels compelled to push the servant down the stairs, which keeps her housebound before she can catch the flu. This time they all live.
Over and over, Ursula lives out different lives and deaths. She becomes pregnant at sixteen and has an abortion that alienates her from her family. She marries a tyrant who cons her into their marriage and kills her when she tries to leave. She becomes a member of Adolphe Hitler's inner circle. She rescues Londoners during the bombing in WW2 and is crushed to death under the weight of buildings multiple times. In one lifetime, she kills Hitler before he can start the war. Each time she is born and each time darkness descends.
Throughout the novel, there is a secondary and far more disturbing plot line running through like a pulse. Someone in the neighbourhood is raping and murdering young girls around Ursula's age. The girls change depending on the life time and the circumstances; sometimes we see a near miss (the man with the limp leering at the girls as they run home), other times it is all too clear what comes next and whose body will be found.
I thoroughly enjoyed this novel and I'm still amazed at the structure of it. In lesser hands this book could have been convoluted and tedious, but Atkinson managed to write a novel with folds, creases, and repetitions that kept me reading and made me endlessly curious.
---
October 2018: Books for a Haunting, Scary Books for October
I've always loved creepy books and so October is my favourite month for reading. Here are some of my favourite creepy books and collections to get you through October.
The Haunting of Hill House (Shirley Jackson)
The Haunting of Hill House is a scary classic that I've loved for so many years. After reading The Lottery as a kid, I fell in love with all of Jackson's writing. I've just started watching the new Netflix mini-series, which is nothing like the book, but such an interesting show.
Book jacket description: The classic supernatural thriller by an author who helped define the genre. First published in 1959, Shirley Jackson's The Haunting of Hill House has been hailed as a perfect work of unnerving terror. It is the story of four seekers who arrive at a notoriously unfriendly pile called Hill House: Dr. Montague, an occult scholar looking for solid evidence of a "haunting;' Theodora, his lighthearted assistant; Eleanor, a friendless, fragile young woman well acquainted with poltergeists; and Luke, the future heir of Hill House. At first, their stay seems destined to be merely a spooky encounter with inexplicable phenomena. But Hill House is gathering its powers—and soon it will choose one of them to make its own.
The woman in black (Susan Hill)
The woman in Black is one of my favourite scary classics. If you've seen the movie, the book is far, far creepier. In this short book, Hill writes in a Victorian voice and taps into all of my worst fears.
Book jacket description: What real reader does not yearn, somewhere in the recesses of his or her heart, for a really literate, first-class thriller–one that chills the body, but warms the soul with plot, perception, and language at once astute and vivid? In other words, a ghost story written by Jane Austen?
Alas, we cannot give you Austen, but Susan Hill's remarkable Woman In Black comes as close as our era can provide. Set on the obligatory English moor, on an isolated causeway, the story has as its hero Arthur Kipps, an up-and-coming young solicitor who has come north from London to attend the funeral and settle the affairs of Mrs. Alice Drablow of Eel Marsh House. The routine formalities he anticipates give way to a tumble of events and secrets more sinister and terrifying than any nightmare: the rocking chair in the deserted nursery, the eerie sound of a pony and trap, a child's scream in the fog, and most dreadfully–and for Kipps most tragically–The Woman In Black.
The Woman In Black is both a brilliant exercise in atmosphere and controlled horror and a delicious spine-tingler–proof positive that this neglected genre, the ghost story, isn't dead after all.
The Silent Companions by Laura Purcell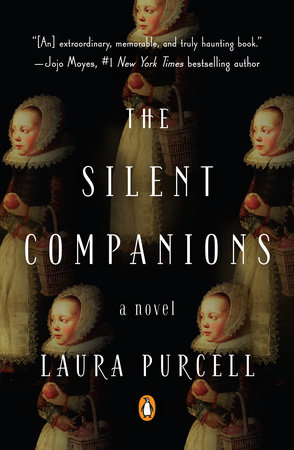 I read this historical thriller in one sitting and felt like I was coming up for air when I was finished. If you want to know about the silent companions that actually existed, click here. This historical thriller is so unsettling and perfect for halloween.
Book jacket description: When Elsie married handsome young heir Rupert Bainbridge, she believed she was destined for a life of luxury. But with her husband dead just weeks after their marriage, her new servants resentful, and the local villagers actively hostile, Elsie has only her husband's awkward cousin for company. Or so she thinks. Inside her new home lies a locked door, beyond which is a painted wooden figure–a silent companion–that bears a striking resemblance to Elsie herself. The residents of The Bridge are terrified of the figure, but Elsie tries to shrug this off as simple superstition–that is, until she notices the figure's eyes following her.
A Victorian ghost story that evokes a most unsettling kind of fear, this is a tale that creeps its way through the consciousness in ways you least expect–much like the silent companions themselves.
Literary Witches by Taisia Kitaiskaia and Katy Horan
While not strictly scary, this book features so many of my favourite authors who have been thought of as witches over the years (Angela Carter, Flannery O'Connor, and Zora Neale Hurston to name a few).
Book jacket description: Celebrate the witchiest women writers with beautiful illustrations and imaginative vignettes.
Literary Witches draws a connection between witches and visionary writers: both are figures of formidable creativity, empowerment, and general badassery. Through poetic portraits, Taisia Kitaiskaia and Katy Horan honor the witchy qualities of well-known and obscure authors alike, including Virginia Woolf, Mira Bai, Toni Morrison, Emily Dickinson, Octavia E. Butler, Sandra Cisneros, and many more.
Perfect for both book lovers and coven members, Literary Witchesis a treasure and a source of inspiration. Kitaiskaia and Horan bring fresh insights on your most beloved authors, suggest enchanting new writers, and invite you to rediscover the magic of literature.
Ghostly: A Collection of Ghost Stories
This short story collection, edited by Audrey Niffenegger, is one of my all-time favourites. Not all of the stories are scary, but they are perfect for halloween
Book jacket description: Collected and introduced by the bestselling author of The Time Traveler's Wife and Her Fearful Symmetry–including Audrey Niffenegger's own fabulous new illustrations for each piece, and a new story by her–this is a unique and haunting anthology of some of the best ghost stories of all time.
From Edgar Allan Poe to Kelly Link, M.R. James to Neil Gaiman, H.H. Munro to Audrey Niffenegger herself, Ghostly reveals the evolution of the ghost story genre with tales going back to the eighteenth century and into the modern era, ranging across styles from Gothic Horror to Victorian, stories about haunting–haunted children, animals, houses. Every story is introduced by Audrey Niffenegger, an acclaimed master of the craft, with some words on its background and why she chose to include it. Audrey's own story is "A Secret Life With Cats."
Perfect for the classic and contemporary ghost story aficionado, this is a delightful volume, beautifully illustrated by Audrey, who is a graphic artist with great vision. Ghostly showcases the best of the best in the field, including Edith Wharton, P.G. Wodehouse, A.S. Byatt, Ray Bradbury, and so many more
The Haunted Looking Glass: Ghost Stories Chosen by Edward Gorey
I just got this collection in the mail and I've been reading at least one story per day. Each story has an illustration by Edward Gorey (my long time love) and they're all classic ghost stories. All of the ghost stories are almost all written by men, but definitely read the amazing story by Edith Nesbit.
Book jacket description: The Haunted Looking Glass is the late Edward Gorey's selection of his favorite tales of ghosts, ghouls, and grisly goings-on. It includes stories by Charles Dickens, Wilkie Collins, M. R. James, W. W. Jacobs, and L. P. Hartley, among other masters of the fine art of making the flesh creep, all accompanied by Gorey's inimitable illustrations.
ALGERNON BLACKWOOD, "The Empty House"
W.F. HARVEY, "August Heat"
CHARLES DICKENS, "The Signalman"
L.P. HARTLEY, "A Visitor from Down Under"
R.H. MALDEN, "The Thirteenth Tree"
ROBERT LOUIS STEVENSON, "The Body-Snatcher"
E. NESBIT, "Man-Size in Marble"
BRAM STOKER, "The Judge's House"
TOM HOOD, "The Shadow of a Shade"
W.W. JACOBS, "The Monkey's Paw,"
WILKIE COLLINS, "The Dream Woman"
M.R. JAMES, "Casting the Runes"
Happy creepy reading!
August 2018: Mrs. Caliban, Rachel Ingalls
"Why do you call him a monster?"
"Well, an eight-foot tall green gorilla with web feet and bug eyes—what would you call him? A well-developed frog? Not exactly an Ivy-league type, anyway.'"
"I've met plenty of Ivy-leaguers I'd call monsters."
Rachel Ingalls' cult classic Mrs. Caliban is the perfect read for a rainy afternoon. I read this book partway through my practicum with grade eight English students in March and I reread it this past weekend. Sitting at my favorite local coffee shop with a much needed americano, I took this little book out of my bag and dug in. About an hour and a half later, I resurfaced, my coffee long since cold.
I don't own a copy of this novel because it was difficult to find one. Mrs. Caliban has just been reprinted, largely due to the success of Guillermo Del Toro's cold war film The Shape of Water, but that doesn't mean that Ingalls is lacking her own audience. Mrs. Caliban has a large cult following that landed the book on BBMC's "top 20 American novels of the post-World War II period." The sudden resurgence of interest can probably be attributed to the film, but we can all agree that Ingalls created this unique narrative first.
In Mrs. Caliban, we meet Dorothy who is unhappily married and living in a suburb where she washes dishes and awaits her husband's return at the end of each day. One afternoon, she hears a radio announcement that a sea creature has escaped from the Institute for Oceanographic Research. Everything changes for Dorothy when the 6'7 lizard man walks into her kitchen after killing his captors. He introduces himself as Larry and the two begin a tumultuous love affair that ends in the destruction of relationships, property and life as Dorothy knew it.
The title alludes to one of my favourite Shakespeare plays The Tempest in which Caliban is a half human, half monster who has long been a symbol of colonial oppression. His name is also an anagram of the word 'cannibal' furthering his status as a monster. Placing Mrs. Caliban within the context of The Tempest, we begin to see the alienation and othering of Larry (and Dorothy by association) as an extension of patriarchal and institutional oppression. Larry was meant to be used as a weapon, but instead he finds Dorothy and seeks shelter from his destined role. Through Larry and Dorothy's relationship, Ingalls criticizes gender roles, the marriage institution and the media with her lizard man at the epicenter of conflict. She leaves it up to the reader to decide whether Larry is real or a figment of Dorothy's imagination, brought on by boredom and frustration with the patriarchal world she lives in. To be completely honest, I'm still not sure.
I won't spoil the ending, but after murder, explosions and a surprisingly tender love story, Mrs. Caliban is a book I'll return to again and again.
---
August 2018: Threats, Amelia Gray
"You lose everything you love in the order in which you love it."
Amelia Gray's novel Threats is as unnerving and threatening as the title suggests. Threats is like a strange and uneven puzzle where you find a new piece when you didn't know you were missing any. As information is revealed, falsified, reconsidered and reformulated, we readjust as readers within short spans of time and space.
A
basic synopsis:
On a winter night,Franny walks out of the house where her and her husband, David, live wearing nothing but her pajamas. She freezes to death with a handful of berries in her fist and even more in her stomach. David has trouble coping after her death and is continually visited by police and therapists who claim to have his best interests at heart. He is an ex-dentist and his narrative voice often flashes back to past events.
Shortly after Franny's death, David has a number of out of body experiences where he sees the situation through the eyes of other characters. This helped to ground me in a narrative where nothing was certain.
Franny's death doesn't come as a great shock to him. What shocks him is the threatening notes he finds left around the house after her death. For example: CURL UP ON MY LAP. LET ME BRUSH YOUR HAIR WITH MY FINGERS. I AM SINGING YOU A LULLABY. I AM TESTING FOR STRUCTURAL WEAKNESS IN YOUR SKULL or I WILL LOCK YOU IN A ROOM MUCH LIKE YOUR OWN UNTIL IT BEGINS TO FILL WITH WATER. Other threats involve nails through feet, poison, and other forms of torture. David also discovers a horde of journalists outside his house, all curious about the his wife he may have killed, but most shocking to David is that one of the journalists has moved into his garage. The lines between fact and fiction are blurred so that David doesn't know what/who is real and what/who isn't. The one thing we know for sure is that the notes are real. One of Franny's old work friends finds a note addressed to herself in a coffee cup.
Overall, this book is unsettling and narratively unique. If you want a read with a strong sense of plot and pace, this novel may not be for you. If you're interested in long unstable character study, this book might be perfect.
July 2018: The Honey Farm, Harriet Alida Lye
When I picked up The Honey Farm, I was instantly drawn in by the beautiful botanical cover. When I read the description, I was even more excited; there aren't many things that I find more fascinating than bees and plagues.
The first character we are introduced to is named Cynthia. She owns an isolated honey farm that is experiencing unprecedented drought and thus a drop in honey production and sales. She puts out a call for helpers in the form of a poster to try and boost production for the summer. Her helpers will receive free room and board on the condition that they work on the farm. Cynthia presents the farm as an artists' colony, attracting a very specific type of helper. This cryptic invitation mirrors Jackson's The Haunting of Hill House in that the invitees are given very little information, yet feel drawn to the farm like bees to the hive. The two characters that are given the most attention are Sylvia and Ibrahim (bring on the biblical references) who are both young and trying to get away from their stifling families. Sylvia and Ibrahim begin a romantic relationship while the helpers slowly abandon the farm one by one. First, because of bloody water shooting from the pipes, then a hoard of frogs descending on the house, until each of the biblical plagues and pestilences are fulfilled.
"Everything dies. And we have to learn to love the world anyway."
I gave The Honey Farm three out of five for a few reasons. While the writing was strong and the premise was interesting, the plot and the handling of characters let me down in part two. I have an issue with the unwell woman trope being used so ubiquitously in literature. I am all for monstrous women, horrid women, and nasty women, but I prefer my female villains to be completely in control of their monstrosity. It's so much more interesting when their primary characteristic isn't that their unbalanced. I recently heard Phillip Gourevitch talk at the Banff Centre. He said that there is a real lack of villainy in literary fiction and far too many one-dimensional 'bad guys.' This is where my real issue with The Honey Farm lies. The 'bad guy' trait in this case is the fact that Cynthia just wants a baby too much. She's a queer woman living alone (I feel like I need to unpack this more, especially in the LGBTQ+ context). Cynthia lost her own child in circumstances that are never quite made clear and she keeps Sylvia and Ibrahim at her farm even after all of the others have left. I feel that most of her actions are ultimately discredited because of her overwhelming desire for a baby and her mental instability. Not to mention, there was a ton of gas-lighting from both Cynthia and Ibrahim that felt a little too normalized to me.
Overall, this was an interesting read that I would take with a grain of salt. You may get tired of the biblical imagery, but you'll learn a whole lot about bees.
---
June 2018: Speak, Laurie Halse Anderson
THE FIRST TEN LIES THEY TELL YOU IN HIGH SCHOOL
1. We are here to help you.
2. You will have enough time to get to your class before the bell rings.
3. The dress code will be enforced.
4. No smoking is allowed on school grounds.
5. Our football team will win the championship this year.
6. We expect more of you here.
7. Guidance counselors are always available to listen.
8. Your schedule was created with your needs in mind.
9. Your locker combination is private.
10. These will be the years you will look back on fondly.
---
Laurie Halse Anderson's novel Speak was published nineteen years ago but it's still a book we need to read today. Speak isn't the only text that addresses sexual assault and harassment and not everyone will relate to it or the story of a young white girl's trauma, but it certainly opens up a discussion in a demographic that is fully engaged in the #MeToo movement. Here's a reading list for the #MeToo era that is intersectional and features multifaceted trauma narratives.
As much as I wish we didn't need writing about sexual assault, young readers have more lived experience with sexual assault and harassment than we'd like to think. I had the privilege of working with grade eight students in ELA on my practicum this year. Each month, they have a period in which they go to the library and select new books for free reading time. Most students picked up John Green or The Hunger Games, but I saw four girls each checking out a copy of Speak and rapidly flipping through the pages. I'd already read the book and was surprised to see that they'd chosen four tattered copies of a book that was older than they were (that being said, another girl picked up Les Misérables for fun reading).
The next day, I chatted with the girls and mentioned that I'd read and loved the book. Testing the waters, I asked them if they knew what it was about. They said that it was about in a girl in high school who was unpopular because she called the police at the last party of the summer. I reread the book over spring break to refresh my memory and found it infinitely more difficult to get through this time around. The writing was still accessible, but I connected with the content in a different way than I did when I was fifteen. When the students and I discussed it after spring break, they weren't shocked by the content. In fact, they'd each known someone that this had happened to.
---
"I have survived. I am here. Confused, screwed up, but here. So, how can I find my way? Is there a chain saw of the soul, an ax I can take to my memories or fears?"
---
Within the first few pages, Melinda's voice is set so strongly (like in the above list) even though she doesn't have any dialogue. She seems to be incapable of speaking further than grunts of agreement or dissent. By the end of the novel, we realize that Melinda was raped at the party and called the police, but found herself unable to speak when she picked up the phone which led to the police investigating and shutting down the party.
This isn't a feel good book where Melinda's friends rally around to support her through her trauma. Her first attempt at disclosure is shut down, she has to see her rapist at school every day and is physically confronted by him on multiple occasions (not to mention the silencing she imposes on herself as the result of a system that believes victims are lying until proven otherwise). I wish this book weren't such an accurate depiction of the treatment of survivors, but it is. Anderson presents a complex and honest account of her own experiences with sexual assault and managed to bring these conversations forward before they had cultural cachet.
This book is definitely worth a read when you've got the capacity to process it. There's also a beautiful graphic novel edition that came out this year and some interesting commentary from the author about the #MeToo movement.
---
June 2018: Her Body and Other Parties, Carmen Maria Machado
I have heard all the stories about girls like me, and I am unafraid to make more of them…
If I had to summarize Carmen Maria Machado's debut collection in one word, it would be haunting. I've never read anything like most of these stories, which is really exciting as a big reader (my fellow big readers can attest to this feeling). Her stories are imaginative and diverse across subjects, but she always connects back to the female body. The female body is presented as the site of erasure, manipulation, motherhood, sexuality, and abuse to name a few examples.
The collection opens with one of her most popular pieces, The Husband Stitch, which was widely read and shared over social media earlier this year. Her story brought awareness of a medical practice to the mainstream when it had otherwise been erased. The 'husband stitch' refers to a practice where husbands/doctors either request or suggest a tightening of the women's anatomy after the birth of a child (if you want to read more click here). This story sets the tone for the rest of the collection as a fairy tale, horror, Gothic-esque assemblage. There are plagues, dead rabbits, and overall strange happenings. My favourite piece in the collection is called "Inventory". The narrator provides a list of her sexual partners and context to those sexual encounters during the slow spread of a plague.
Machado has also been nominated for a Shirley Jackson award in three categories (Novelette, Short Fiction, and Single-author collection). I would recommend this collection to anyone who feels like they need some more surrealist female/queer fiction in their lives (which should really be all of us).
---
June 2018: The Violent Bear it Away, Flannery O'Connor
The world was made for the dead. Think of all the dead there are…There's a million times more dead than living and the dead are dead a million times longer than the living are alive… Flannery O'Connor has always been one of my favourite authors. She's the queen of the Southern Gothic and at one time, she had fifty peacocks on her property. She wrote two novels, over thirty stories and hundreds of book reviews before she passed away from Lupus at the age of thirty-nine.
I read her short story A Good Man is Hard to Find when I was ten years old (maybe a little too young for such a bleak and violent story) but I fell in love with the dissonance she can create between good and evil. Likewise, The Violent Bear it Away investigates the divide between secularism and fundamentalism, as well as the racial politics which would have been particularly tense the the Southern states in the 1960s. What I find truly remarkable about O'Connor's work is that the characters that often seem the most rational are the serial killers, the criminals and the liars.
In The Violent Bear it Away, we meet Francis Marion Tarwater, a young boy whose first challenge is dealing with the corpse of his recently deceased great uncle. This is the corpse of a man who stole him from his guardian as a child and brought him up to believe that he was a prophet, effectively nullifying any chance at a normal childhood. When Old Mason dies, Tarwater is unofficially adopted by the uncle he was snatched from. This uncle has fathered his own child named Bishop who is a little younger than Tarwater. It's important to note that Bishop most likely has Down Syndrome and that his treatment and portrayal are pretty horrific. Bishop becomes the main recipient of Tarwater's abuse and religious ramblings, as Tarwater becomes obsessed with the idea of baptizing Bishop and to save his soul. Tarwater is the novel's main character, but he cannot be considered a hero or even a likeable character. Tarwater continually tries save the souls of those around him, despite his uncles best attempts to reform him.
As is typical in O'Connor's fiction, no one really sees redemption in the end, but instead, a grim worsening of their condition.
---
January 2018: A Year in Book Reviews
This was probably my best reading year ever. I finished my English Lit degree and suddenly had full control of my reading time. Since it got so cold this year over the holidays, I ended up reading more than usual and managed to beat my reading goal for the year by finishing 60 books. I discovered some new favourite authors like Ali Smith and Kazuo Ishiguro. I read more books from some old favourite authors like Helen Oyeyemi, Susan Hill and Jeanette Winterson. Some of these books made me cry my eyes out, others gave me major creeps, but all of them were amazing. Here's what I read this year and here's to another year of amazing books.
---
July 2017: Thrifty Book buys
I'm a BIG fan of books and I'm an even bigger fan of used books on sale. A lot of my books come from scouring the Good Will, Fair's Fair books, or Better World Books (I have a blurb about them at the end of this post). There are a couple in this pile that I'd almost bought for full price over the last few months, but I managed to snag all of these for under eighteen dollars! Here's what I got:
Hundreds and Thousands: the journals of an artist – Emily Carr
The Secret Life of Bees – Sue Monk Kidd
Amsterdam – Ian McEwan
Moloka'i – Adam Brennert
Their Eyes Were Watching God – Zora Neale Hurston
Jazz – Toni Morrison
Skin Divers – Anne Michaels
Himself – Jess Kidd
Of Bees and Mist – Erick Setiawan
One my favourite book retailers is betterworldbooks.com, a not-for-profit started by a few friends from college. The concept is that for every book you buy, one book is donated to someone in need through hundreds of different charities and organizations (talk about validating my book obsession with charity). They support of ton of local libraries around the world and they even tell you which library your purchase will be supporting. Not to mention they've have worldwide free shipping and almost every book on the planet. Definitely check them out!
Pictured is my cat (AKA Peanut) who loves to read almost much as I do, and usually over my shoulder.
---
July 2017: An Unconventional Summer Reading List
Right now, I'm between degrees and only working in the archives part time, which means that I have more time for myself than I've had in years. The biggest trademark of my English degree was the way it structured my reading and not always in great ways (hello, Chaucer) but now I have full freedom to choose what I want to read and when. This is the perfect opportunity to work through my unruly TBR pile that has been steadily growing for years. Since at any given moment I'm either reading a book, looking for books or talking about books (sorry), I want to document them all in one place and keep myself accountable to keep going. I'll be posting reviews and musings about the books I read, and I'll also be using the public library as much as possible to save both my bank account and my poor overworked bookshelves. Please send me all of your book recommendations too! I'd love to know what you're reading.
What I've read so far this summer (fun fact: 9 start with the prefix the)
The Taxidermist's Daughter – Kate Mosse
Little Sister – Barbara Gowdy
Restlessness – Aritha van Herk
I'm the King of the Castle – Susan Hill
Never Let Me Go – Kazuo Ishiguro
The Handmaid's Tale – Margaret Atwood
The Haunting of Hill House – Shirley Jackson
The Romantic – Barbara Gowdy
The Remains of the Day – Kazuo Ishiguro
The World According to Garp – John Irving
The Bear – Clare Cameron
The Girls – Emma Cline
Why Be Happy When You Could Be Normal? – Jeanette Winterson
The Catcher in the Rye – J.D. Salinger
Even this page is white – Vivek Shraya
---
Fiction I need to read (fun fact: only 11 begin with the but 3 are about birds!)
The woman who gave birth to rabbits – Emma Donoghue
The Afterlife of Birds – Elizabeth Philips
The Genius of Birds – Elizabeth Philips.
The End of the Story -Lydia Davis
In Cold Blood – Truman Capote
Villette – Charlotte Brontë
Beloved – Toni Morrison
Ulysses – James Joyce
Astray – Emma Donoghue
The Back of the Turtle -Thomas King
The Waves – Virginia Woolf
The Studhorse man – Robert Kroetsch
White Teeth – Zadie Smith
Swing Time – Zadie Smith
Ophelia's Muse – Rita Cameron
Agnes Gray – Anne Brontë
The obituary Writer – Ann Hood
Moonglow – Michael Chabon
Angela's ashes – Frank McCourt
The Break – Katherena Vermette
The way the crow flies – Ann-Marie McDonald
Son of a Trickster – Eden Robinson
Moshi Moshi – Banana Yoshimoto
Yesterday, at the Hotel Clarendon – Nicole Brossard
Ana, Historic – Daphne Marlatt
Wise Blood – Flannery O'Connor
The Falls – Joyce Carol Oates
---
Poetry I need to read:
Nets – Jen Bervin
Recyclopedia – Haryette Mullen
Joy Kagawa – A Garden of Anchors
---
Non-fiction/biography I need to read:
Shirley Jackson, A Rather Haunted Life – Ruth Franklin
Virginia Woolf, A Biography – Hermione Lee
Charlotte Brontë – Clare Harman
Anais Nin, A Biography – Deirdre Bair
Bad Feminist – Roxanne Gay
How to Build a Woman – Caitlin Moran
This list is probably about one hundredth of the books I want to read, but it's a good start! Please send me book recommendations (especially for new poetry). I'm always up for something new!