I've always loved creepy books and so October is my favourite month for reading. Here are some of my favourite creepy books and collections to get you through October.
The Haunting of Hill House (Shirley Jackson) 
The Haunting of Hill House is a scary classic that I've loved for so many years. After reading The Lottery as a kid, I fell in love with all of Jackson's writing. I've just started watching the new Netflix mini-series, which is nothing like the book, but such an interesting show.
Book jacket description: The classic supernatural thriller by an author who helped define the genre. First published in 1959, Shirley Jackson's The Haunting of Hill House has been hailed as a perfect work of unnerving terror. It is the story of four seekers who arrive at a notoriously unfriendly pile called Hill House: Dr. Montague, an occult scholar looking for solid evidence of a "haunting;' Theodora, his lighthearted assistant; Eleanor, a friendless, fragile young woman well acquainted with poltergeists; and Luke, the future heir of Hill House. At first, their stay seems destined to be merely a spooky encounter with inexplicable phenomena. But Hill House is gathering its powers—and soon it will choose one of them to make its own.
The woman in black (Susan Hill)
The woman in Black is one of my favourite scary classics. If you've seen the movie, the book is far, far creepier. In this short book, Hill writes in a Victorian voice and taps into all of my worst fears.
Book jacket description: What real reader does not yearn, somewhere in the recesses of his or her heart, for a really literate, first-class thriller–one that chills the body, but warms the soul with plot, perception, and language at once astute and vivid? In other words, a ghost story written by Jane Austen?
Alas, we cannot give you Austen, but Susan Hill's remarkable Woman In Black comes as close as our era can provide. Set on the obligatory English moor, on an isolated causeway, the story has as its hero Arthur Kipps, an up-and-coming young solicitor who has come north from London to attend the funeral and settle the affairs of Mrs. Alice Drablow of Eel Marsh House. The routine formalities he anticipates give way to a tumble of events and secrets more sinister and terrifying than any nightmare: the rocking chair in the deserted nursery, the eerie sound of a pony and trap, a child's scream in the fog, and most dreadfully–and for Kipps most tragically–The Woman In Black.
The Woman In Black is both a brilliant exercise in atmosphere and controlled horror and a delicious spine-tingler–proof positive that this neglected genre, the ghost story, isn't dead after all.
The Silent Companions by Laura Purcell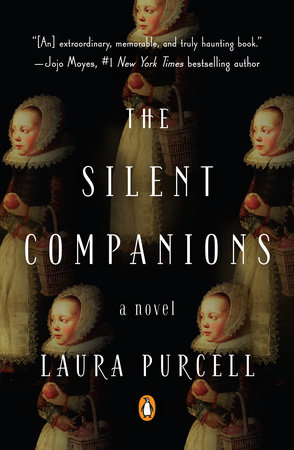 I read this historical thriller in one sitting and felt like I was coming up for air when I was finished. If you want to know about the silent companions that actually existed, click here. This historical thriller is so unsettling and perfect for halloween.
Book jacket description: When Elsie married handsome young heir Rupert Bainbridge, she believed she was destined for a life of luxury. But with her husband dead just weeks after their marriage, her new servants resentful, and the local villagers actively hostile, Elsie has only her husband's awkward cousin for company. Or so she thinks. Inside her new home lies a locked door, beyond which is a painted wooden figure–a silent companion–that bears a striking resemblance to Elsie herself. The residents of The Bridge are terrified of the figure, but Elsie tries to shrug this off as simple superstition–that is, until she notices the figure's eyes following her.
A Victorian ghost story that evokes a most unsettling kind of fear, this is a tale that creeps its way through the consciousness in ways you least expect–much like the silent companions themselves.
Literary Witches by Taisia Kitaiskaia and Katy Horan 
While not strictly scary, this book features so many of my favourite authors who have been thought of as witches over the years (Angela Carter, Flannery O'Connor, and Zora Neale Hurston to name a few).
Book jacket description: Celebrate the witchiest women writers with beautiful illustrations and imaginative vignettes.
Literary Witches draws a connection between witches and visionary writers: both are figures of formidable creativity, empowerment, and general badassery. Through poetic portraits, Taisia Kitaiskaia and Katy Horan honor the witchy qualities of well-known and obscure authors alike, including Virginia Woolf, Mira Bai, Toni Morrison, Emily Dickinson, Octavia E. Butler, Sandra Cisneros, and many more.
Perfect for both book lovers and coven members, Literary Witchesis a treasure and a source of inspiration. Kitaiskaia and Horan bring fresh insights on your most beloved authors, suggest enchanting new writers, and invite you to rediscover the magic of literature.
Ghostly: A Collection of Ghost Stories 
This short story collection, edited by Audrey Niffenegger, is one of my all-time favourites. Not all of the stories are scary, but they are perfect for halloween
Book jacket description: Collected and introduced by the bestselling author of The Time Traveler's Wife and Her Fearful Symmetry–including Audrey Niffenegger's own fabulous new illustrations for each piece, and a new story by her–this is a unique and haunting anthology of some of the best ghost stories of all time.
     From Edgar Allan Poe to Kelly Link, M.R. James to Neil Gaiman, H.H. Munro to Audrey Niffenegger herself, Ghostly reveals the evolution of the ghost story genre with tales going back to the eighteenth century and into the modern era, ranging across styles from Gothic Horror to Victorian, stories about haunting–haunted children, animals, houses. Every story is introduced by Audrey Niffenegger, an acclaimed master of the craft, with some words on its background and why she chose to include it. Audrey's own story is "A Secret Life With Cats."
     Perfect for the classic and contemporary ghost story aficionado, this is a delightful volume, beautifully illustrated by Audrey, who is a graphic artist with great vision. Ghostly showcases the best of the best in the field, including Edith Wharton, P.G. Wodehouse, A.S. Byatt, Ray Bradbury, and so many more
The Haunted Looking Glass: Ghost Stories Chosen by Edward Gorey
I just got this collection in the mail and I've been reading at least one story per day. Each story has an illustration by Edward Gorey (my long time love) and they're all classic ghost stories. All of the ghost stories are almost all written by men, but definitely read the amazing story by Edith Nesbit.
Book jacket description: The Haunted Looking Glass is the late Edward Gorey's selection of his favorite tales of ghosts, ghouls, and grisly goings-on. It includes stories by Charles Dickens, Wilkie Collins, M. R. James, W. W. Jacobs, and L. P. Hartley, among other masters of the fine art of making the flesh creep, all accompanied by Gorey's inimitable illustrations.
ALGERNON BLACKWOOD, "The Empty House"
W.F. HARVEY, "August Heat"
CHARLES DICKENS, "The Signalman"
L.P. HARTLEY, "A Visitor from Down Under"
R.H. MALDEN, "The Thirteenth Tree"
ROBERT LOUIS STEVENSON, "The Body-Snatcher"
E. NESBIT, "Man-Size in Marble"
BRAM STOKER, "The Judge's House"
TOM HOOD, "The Shadow of a Shade"
W.W. JACOBS, "The Monkey's Paw,"
WILKIE COLLINS, "The Dream Woman"
M.R. JAMES, "Casting the Runes"
Happy creepy reading!